Forget ruby slippers! The wizard of Oz just gave me the magic I needed and it came in a dark tan, satin 3.5 inch women's Latin Ballroom heel. With the click of my heels, poof, I was home where I knew I belonged. It'll be our little secret but apparently, the wizard lives at 580 8th ave. on the 2nd floor in the kingdom of Worldtone Dance Shoes: Dancesport & Theatrical Shoes. I had entered the "High Heel" city welcomed by shelves upon shelves of dance shoes, and I'm talking competitive ballroom, competitive latin, tango, salsa, swing, and theatrical shoes with even an array of practice sneakers. When I asked the lady, Jasmine, at the front desk what exactly I was searching for and if she had a size in stock, she said without hesitation, "let me check." To my surprise she brought out six boxes. I couldn't believe they had shoes already made for someone my size! We were of to a good start. Two of the six pairs of shoes fit me but neither was the style I wanted and now that I realized they had a plethora of large sized high heels, I wasn't shy to ask for a shoe more specific to what I desired. I wanted at least a 3 inch heel (to leverage me more over the ball of my foot), opened toed (for foot articulation and to point my toes) and in satin with a dark tan color (to match my skin tone). She brought out five more boxes. Couple of the shoes fit but the heels were too short and another one fit but the color was black. Okay, maybe I was being a little too picky and perhaps my will power to find this specific shoe went a little over my head. Yes, there were many shoes there that matched perfectly my description but, again, they were not sold in stock in my size which means I would have had to custom order. Jasmine said to custom order my size would cost double the price and take minimum three months to receive, the same ordeal I heard from the other shoe shops I visited. I would be back to square one.
(First attempt of trying heels; notice all 13 boxes of shoes I had tried on!)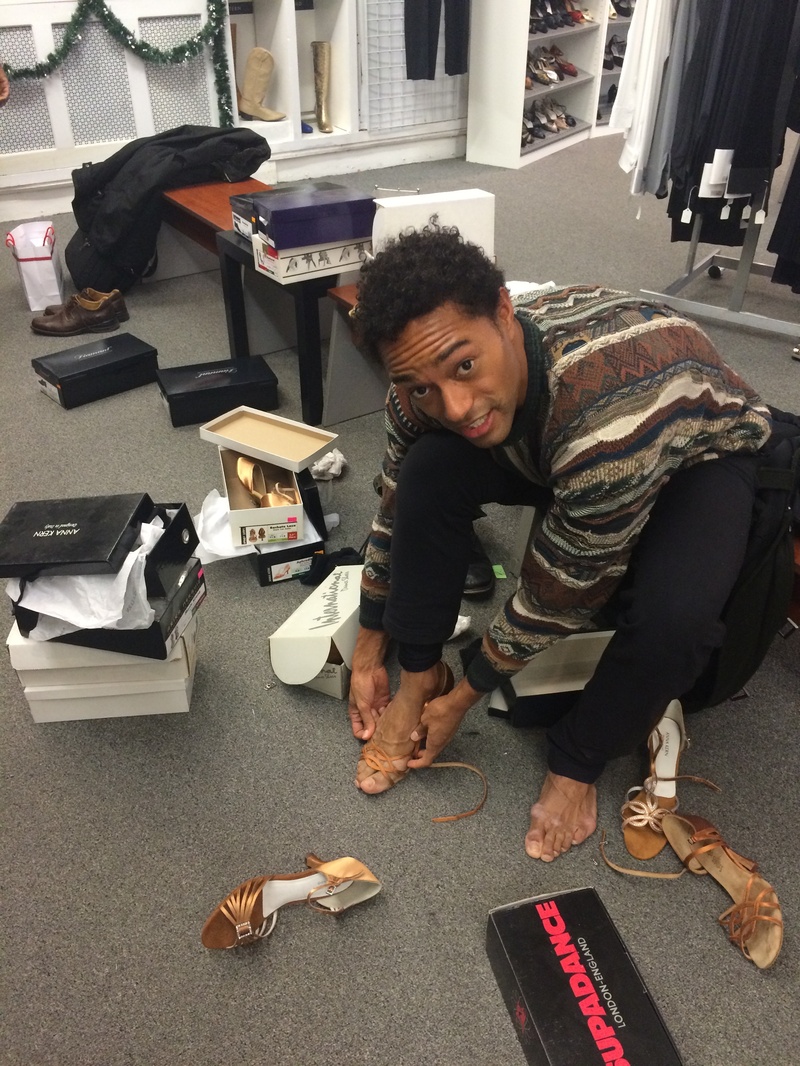 You have to understand, after searching almost all major brand name competitive ballroom websites and also ones that were said to have larger sized shoes but ended up not having any in stock when I inquired, I thought I would see the end of this journey in search of actual women's Latin Ballroom high heels that could fit me without having to take out a loan to buy a pair. A student of mine, Ana, even took the inititavtive to do extra research as to dissuade me from giving up. She searched online at nycdanestore.com, overstock.com, zappos.com, danceshoesonline.com, ballroomusa.com, and the list goes on. She even spoke to one of her local dance shoe stores, Dance Footlights, and Ana emailed me:
"The lady was very helpful and said she was going to speak to the store owner who deals with vendors and would know where and if you can get large size dance shoes. She just called me back-- she unfortunately did not have good news. Their supplier confirmed they do not make ladies Latin shoes larger than size 10 1/2. The supplier said they are running into this issue often, so while I am sorry this is another dead end, at least I am hopeful that with higher demand they will start to think about making these shoes. The advice they gave her, to give to you is to buy regular street shoes you like and take them to a shoe cobbler to put the suede bottom on!"
A cobbler? I mean it sounded like an good idea…if I was trying to build some kind of special handcrafted shoe like that of Lady Gaga, but I am not trying to find shoes to dance on Mars (one day though) nor make shoes that look like they're from outer space.
(Second attempt of trying heels)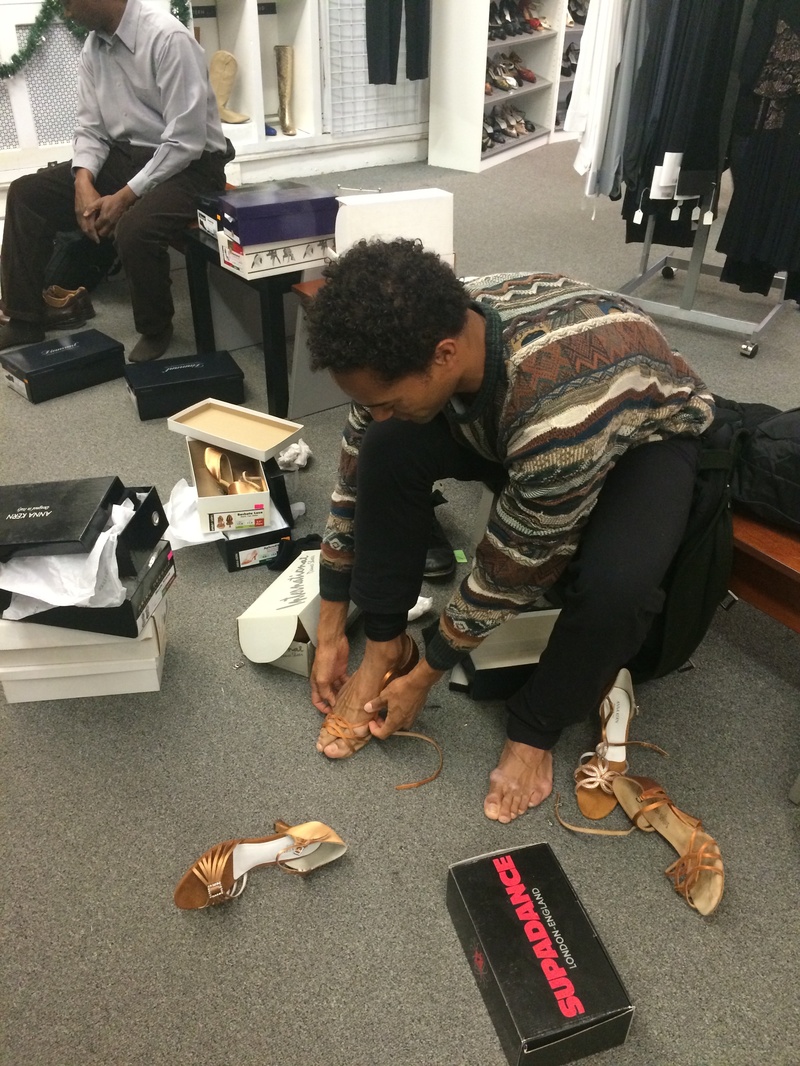 Jasmine understood that I wasn't any ordinary person coming in for shoes. I explained to her my dance background and my purpose for getting heels and she nodded and said she would ask the manager if there was any other possibilities. She was so helpful. She never sighed like the the man at T.O. Dey shoe store who was completely indifferent nor like the lady at Menkes, who was nice but unorganized and unreliable. Jasmine brought out two more shoes and I found my diamond in the rough, and they were the last pair they had in that size. Someone up there must love me. It was a Mambo Shines Bachata Laza size 11. Interestingly enough, being two sizes smaller than my everyday shoe size works for dance shoes. When I tried them on I had to finagle my feet through to fit because they were tight but I realized that they needed to be otherwise I wouldn't have much security and control for dancing. Like a tight glove, dance shoes must mold to your feet. It must have been the layered strapped material in the front that had some give to it or perhaps the width of the shoe because I tried other shoes in size 13 and 12 but they didn't quite fit me so it really depends on the make and style of the shoe. Now I know even with dance heels you should buy a size smaller than your actual size. Yeah it means tighter which means more callous and bigger bunions but it also means you won't be wobbling with your feet moving around your shoe while dancing. Not safe! Since when did dancers ever have nice feet anyways.
After trying thirteen pairs of shoes, I found my match. When I put the shoes on, I walked over to the linoleum tile floor with the mirror in front to test out the shoes. I couldn't help myself. I started doing cha cha lock steps and proceeded to do turns and spins into deep lunges. I just loved the feeling the heels gave me. Two lady's kept watching me who were also trying on heels for themselves and one said, "you gotta be a professional," and I told her that I was but I'm an amateur at heels and she said, "not the way you're moving in them!" I get tickled by the enthusiasm. There was a man who came by me to try on men's ballroom shoes while I was trying on the women's. He didn't say anything and I wondered if perhaps he felt uncomfortable but he didn't pay me any mind and looked liked it didn't bother him. I should have asked him what he thought...
(Taking a test drive of heels on the floor)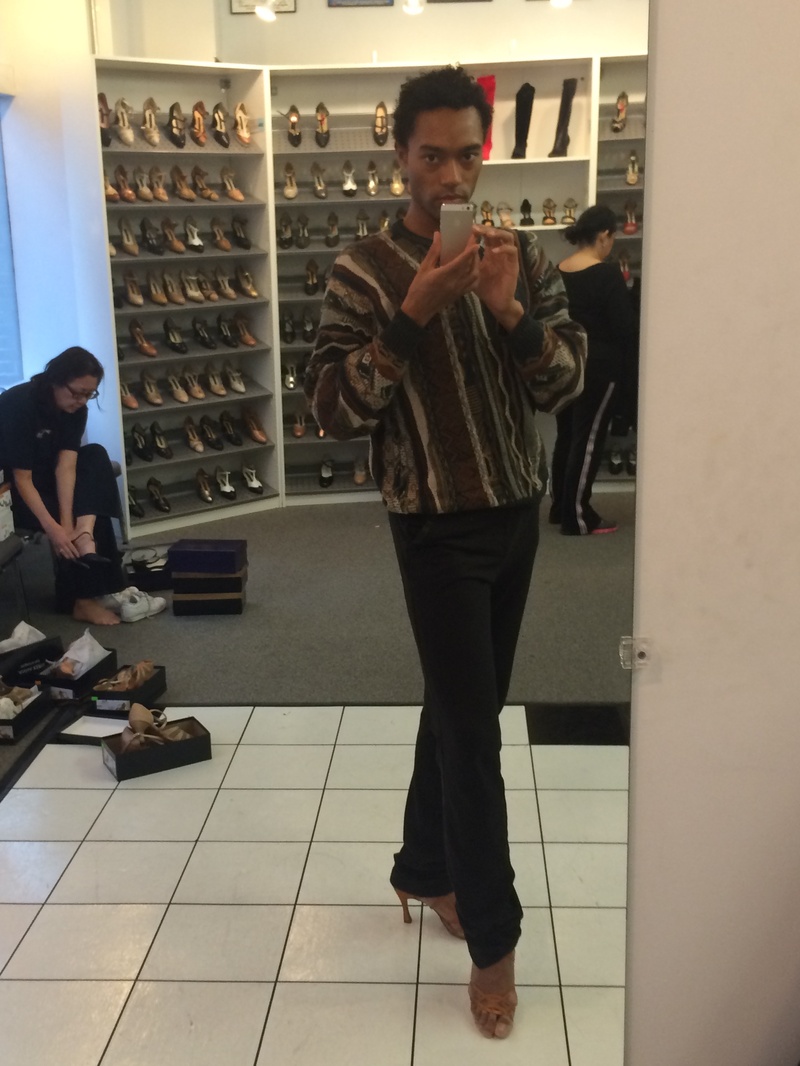 I asked Jasmine if it is unusual for a man to come into the shop looking for women's heels and she said that it isn't uncommon and that they get a good number of men who come in search for women's shoes. Wherever you are guys, I'm searching for you and want to see your moves. Come out and express your elevation!
(Picture of Jasmine who sold me my first pair of ladies latin heels)